KORi Wines is the partnership between Santa Lucia Highlands grape/citrus grower Kirk Williams & his step-daugther Kori Violini. Growing grapes since 2000, in 2008 they lauched the initial KORi Wines Pinot Noir from the KW Ranch Vineyard. With the 2010 and forward vintages they have been working with celebrated winemaker Sabrine Rodems. A brief hiatus started in 2014 for Kori to raise her son; but, with 2018 comes picking a lot more grapes and introducing new wines for KORi fans past, present and future.
KW Ranch Vineyard (Pinot Noir & Syrah)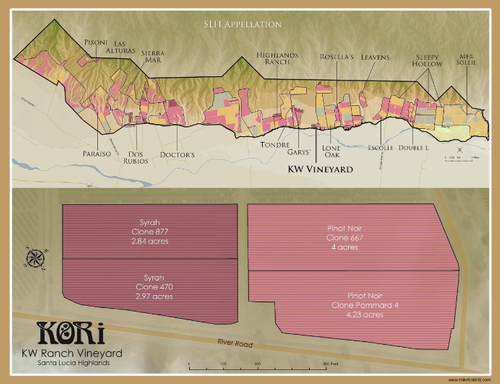 The KW Ranch occupies 16 terraced acres in the Santa Lucia Highlands. Sitting at about 220 feet elevation there is a gentle 5% slope of fertile soil that is mostly gravel loam with some large amounts of quartz.
With Pinot Noir, it's all about the "where" and it is here on the ranch that Kori herself actually lives where some of the best pinot grapes grow this side of Burgundy.
The KW Ranch is perfectly situated in the heart of the S.L.H., surrounded by many well-known estates, including Garys' Vineyard, Sleepy Hollow, and Rosella's. Here the winds off Monterey Bay, cool climate, perfect soils, and long growing season allow Kori Pinot Noir to live up to its pedigree. Not only for our family venture but grapes are also sold to other wineries including Wrath, Scratch, Eno & Morgan.
Highlands Ranch Vineyard (Chardonnay & Pinot Noir)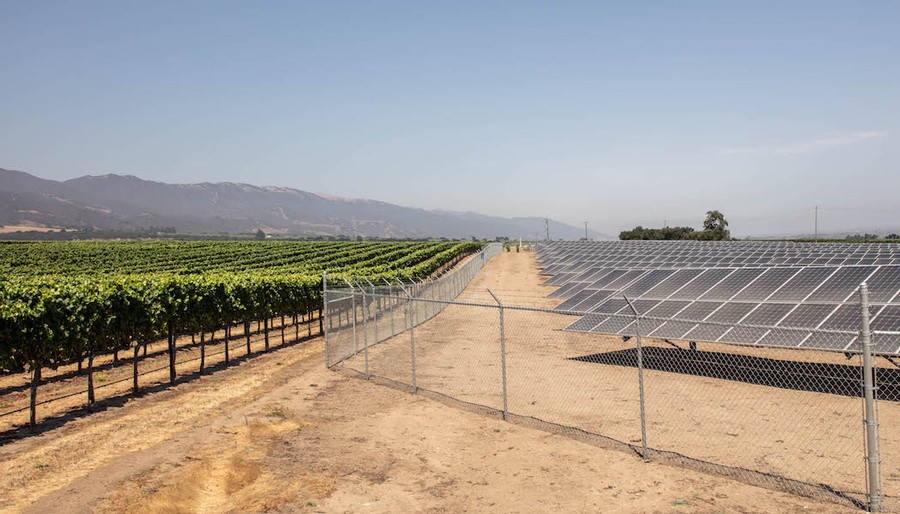 Just down the road the Highlands is where we source the grapes for KORi blanc de blancs sparkling wine from 100% chardonnay. Sitting about 100 feet higher than KW at 35 acres the Highlands Vineyard is a "boutique" offering in the SLH not unlike Meursault is for Burgundy. The Chardonnay here is pure coastal California with the ability to straddle buttery or crisp with floral aromas and fruity palates.