March 24, 2020 | KORi Wines
Cooking with Wine
Rosemary Lemon Chicken Soup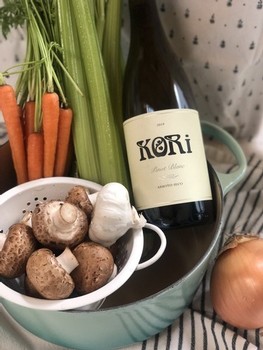 A family favorite that keeps well and frankly gets better over time: rosemary lemon chicken orzo soup! All simple ingredientssome may not be familiar with the orzo which is just pasta that looks like rice. The amounts and directions below are based on a large stockpot or a 5-7qt Dutch oven - you can adjust as needed.
Ingredients
Olive oil
Sea salt & pepper
3 cloves of garlic (diced)
1-2lb boneless, skinless chicken thighs
4-5 carrots (sliced)
1 large onion (diced)
3-4 celery stalks (sliced)
4-5 mushrooms (sliced)
5-8 cups unsalted chicken stock
1 cup dry orzo pasta
Bay leaves
Dried thyme
Garlic powder
Dry, white wine
Fresh rosemary
Lemon
Cilantro
Directions
Heat a few tablespoons of olive oil in the pot on medium heat and season the cut into chunks chicken thighs with salt & pepper. Brown the chicken for a few minutes on each side, until golden, then set aside.
Add a bit more oil to the pot along with the garlic, onion, celery, carrots & mushrooms. Cook and stir occasionallyfor 4-5 minutes. Add 1 teaspoon of dried thyme and cook for another minute.
Add in chicken stock*, 1 cup of white wine, 1 cup water & 2 bay leaves. Bring pot to a boil. *With unsalted chicken stock you can then add additional salt & pepper to taste here. Usually a few pinches of coarse sea salt is a good start.
Stir in orzo, 2 sprigs of rosemary & chicken and simmer for 11-13 minutes until orzo is tender. About halfway through taste the broth and salt & pepper again to taste to give the seasoning a few more minutes to fill out.
Serve with fresh cilantro.
The soup keeps very well and frankly is even tastier on the second or third day after re-heating. For wines we use our 2019 Pinot Blanc from Arroyo Seco or if you want to get crazy the 2018 Highlands Ranch SLH sparkling blanc de blancs. Either wine is a great pairing with the soup or try one with lunch and one with dinner!