June 17, 2020 | KORi Wines
Vineyard Tastings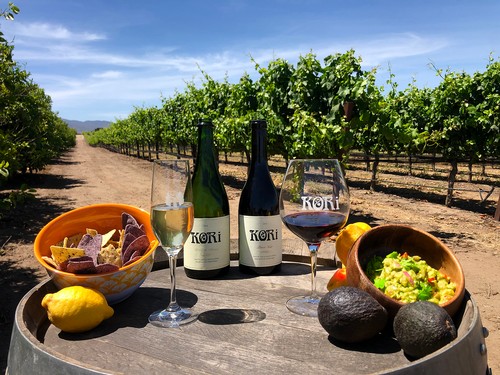 As we're sure you already know, the tasting room in Carmel-by-the-Sea was able to open for sit-down tastings last week. We are operating on slightly reduced hours now so please check online or email/call ahead to let us know you're coming if possible.
However, what we really wanted to announce is the best way to socially distance, get outdoors AND taste wine all in one go. Call it "tail gate tastings", "rent-a-row" or whatever you'd like; but, in the coming weeks we are going to be available for Justin and/or Kori to host you in one of our Santa Lucia Highlands vineyards. The exciting part is that you'll also get to learn about our larger ranches which not only contain our vineyards but also lemon and avocado orchards. Guests will also get some homemade SLH guacamole* using those same avos and lemons - buy enough wine & we may send you home with some stuff to make your own!
Social Distancing: If there are multiple groups tasting then each group will be given their own designated row with at least one row between them and another group. All other protocols regarding sanitation, us wearing masks, etc will be followed just like at the tasting room.
The Experience: While we have the framework with the wine, lemons & avocados there is a lot of room for flexibility to tailor the experience taking into account the season and size/number of groups. We are kindly asking that no single group be larger than 6 and we will most likely cap it to 10-12 people on property at a given time to make the most of it for everyone while still being safe. If you are a single group larger than that or have something in mind please don't hesitate to reach out. We are allowwing up to 70-80 minutes per tasting.
Prices: The vineyard tasting is $50 per person with a minimum of two people. The purchase of two bottles per taster will get a $20 discount similar to the flight fee being waived in the tasting room with 2+ bottle purchase. You'll get chips + guac* based on your group size, but you are welcome to picnic as well.
Club KorK Members: The price is $30 per person for you & two guests. If you have more please let us know and we can work something out.
*While we always should have ripe avocados available, if we are not able to make guacamole we'll provide you with something else like a charcuterie board or a special glass from the personal cellar.
This is something that we plan to be able to offer through the summer & up until harvest time. After that point as weather becomes more unpredictable we still are looking for ways to let you experience more of the Santa Lucia Highlands beyond the fantastic wines. Please contact us in advance info@koriwines.com with your prefered date(s) & time(s) and we will send you a link in order to pay the tasting fees in advance to secure your reservation. Right now some available dates (but not entirely limited to) include: June 21st-24th, June 26th-28th, July 2nd & 3rd. We are not available July 5-12th but after that through the end of July and August most weekends should be available.